Mary-Clare Buckle - Dorset textile artist
About me and my work - as a feltmaker and textile artist
To read comments from previous customers and visitors to my gallery and website,
click here
.
Mary-Clare Buckle - Dorset-based feltmaker and textile artist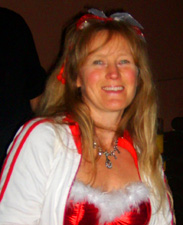 I was born in the Phillipines and grew up in Hampshire, southern England. I come from a creative family of artists, jewellers and woodcarvers. My Art Foundation was at the University of the Creative Arts (Farnham, Surrey), where my brother Chris taught me. Told that I had to specialise for my Degree course, I chose Jewellery Design, which I studied at the Birmingham Institute of Art & Design.
I designed and made jewellery for many years and exhibited in the UK and abroad, but was really always a frustrated textile artist!
Felt - the perfect medium for me
I moved to Dorset in 1995 and discovered
feltmaking
a few years after that. My initial work as a
feltmaker
was extremely colourful, freed from the constraints of making jewellery, where it is difficult to use colour easily.
Felt is the perfect medium for me since, as a predominantly abstract artist, I can either be very imprecise - letting the medium control the design - or can immerse myself in a particular design and exercise as much control as if I were almost 'painting' with the fibres.
Floating felts - ethereal pieces, appearing to float in space
Several years ago, I became interested in creating my 'Floating' felts, making the pieces as thin as possible - almost transparent. When framed by sandwiching between sheets of clear polystyrene or acrylic, the light can penetrate the felt piece, giving it an ethereal, almost-not-there quality.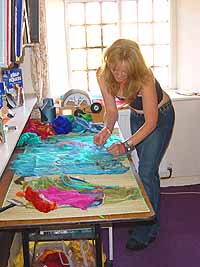 The pieces are hung slightly away from the wall, giving the impression of floating in space (hence floating felts'). When also lit by a spotlight, the work has an incredible vibrancy and 'life', particularly in comparsion with conventionally-framed two-dimensional paintings - the eye of the viewer is no longer constrained by a rectangular frame, but can wander on and off the piece at will.
Whilst I use wool for the basis of a piece, I normally incorporate other fibres - in particular silk, but also mohair wool, flax, viscose, cotton, nylon and metallic threads, or fabrics. Many of these threads - being shiny - reflect light and create even more life in the piece.
Most of my floating felt designs come about by 'playing' with the fibres, or starting off with an idea and seeing where the fibres take me.
I have been inspired, as a felt artist or feltmaker, by many of the treasures found at the Victoria & Albert Museum, especially the mediæval enamel and gold caskets, tapestries, coloured Roman glass inset with gold, damascening work (inlay of gold and silver into iron and set with semi-precious stones) and 18thC brocade costumes. I also draw inspiration form the countryside and coastline of Dorset. I love to contrast gold with the matt wool and in some cases I like the designs to be slightly hidden, or sandwiched between fine layers of wool.
See most of the pieces in my textile art gallery.
Art lights - textile art pieces using light sources
For some time, I have been developing the technique of lighting the floating felt pieces from behind, to turn them into wall lights.
Several examples of these backlit abstract textile art pieces - 'Art Lights' - are available for sale on this website.
I started developing this range in 2002. The innovative idea is to combine floating felts with one or more integral light sources - merging art with home decoration to stunning effect.
The original Art Lights used a '2D' compact fluorescent light shining through a floating felt stretched on a square frame, with a diffusing sheet between the light and the felt, and finished with a sheet of glass on the front. The light shining through brings up the pattern of the individual wool fibres.
The units are designed so that the light also shines out from behind the piece (as shown in my Art LIghts Gallery). Tokelau Storm and Tokelau - Lagoon, however, are framed as floating felts, but with the felt piece going right to the edges of the frame, and then lit by a single 40W bulb, as are a series of smaller lights shown on the page.
I then had the idea to use ultraviolet-reactive ('day-glo') fibres lit with uv tubes set into the frame (actually 'blacklight-blue' tubes, which produces safe uv-A light). (see Tokelau - Deep Down) When the tube is switched on, this produces an intense bright glow from the fibres. One of them (Burning His Roses) also incorporates another idea - fairy lights to backlight the piece as well.
One of the most interesting things about my lit pieces is that, when the light is switched off, you see a very different image (as shown in the enlargements of the pieces in the Art Lights Gallery).
Conceptual textile art work
Alongside this, in my work as a feltmaker and textile artist, I am working on an extensive range of abstract & semi-abstract pop-culture and BritArt-inspired 'conceptual' fibre art work - some pieces as floating felts and some more 'solid' pieces, which are framed conventionally. My creative process often starts with an idea from a song title, or just playing around with a cultural icon, or some ideas in my head - such as Me and its companion piece You, It's Raining Men (from the Weather Girls single) or Kiss Kiss (named after Holly Valance's debut No 1 hit). Currently, I'm busy on a whole series of It's Raining pictures - cows, money, cats & dogs, etc.
You can see this type of work in my textile art gallery.
My inspiration as an artist
As well as the rich prehistoric and mediæval history of Dorset, I have also been inspired, as a felt artist, by places I've visited around the world, including Morocco, Central & South America, Thailand and India. India holds a particular fascination for me - the motifs they use in their work and the fantastically bright colours in the textiles and embroidery. I've been there several times, most recently on a very long trip with my young sons and husband, Andrew Green
Abbotsbury - home to artists and craftspeople
I moved from London to West Dorset, shortly after our twin sons, Arran and Fingal (who we are home-educating), were born and now live in the artists' enclave and picturesque village of Abbotsbury, with a view of the sea to add further inspiration to my work. Abbotsbury is home to a disproportionately large number of artists - so I don't feel like I am working completely alone.
See the page about my own gallery in Abbotsbury for more information about other artists' studios and art galleries in Abbotsbury, Dorset
My husband Andrew, who is a web designer, has designed and created this website - including working on search engine optimisation for it, as well as working with me on the digital imaging and publicity for my work.
For further developments in my work, - to hear up-to-date news about my art.
For or , please with your requirements.

Watch this space!

Visit my art gallery and studio in beautiful West Dorset!
I also sell my art and limited-edition prints from my
studio-gallery in Abbotsbury
.
So if you are visiting this area of Dorset, why not drop in to the gallery?
Or you could even plan a special trip to West Dorset to see the work of all the artists & craftspeople in Abbotsbury. See the page about my own gallery in Abbotsbury for more information about other artists' studios and art galleries in Abbotsbury, Dorset.
My studio gallery is open to the public all year round - but do ring first (01305-871561) if you're planning a special journey.
Above ... take a virtual walk up the stone-lined alleyway to my studio gallery.


back to top of page